For the effort the multiplier effect is a phenomenon in which the success of one entrepreneur catalyzes the success of others. This can happen through investments in startups, mentoring, or simply inspiring others to pursue entrepreneurship. The importance of this effect is amplified within startup ecosystems, which are communities of entrepreneurs, investors and other stakeholders working to support new businesses. When successful entrepreneurs invest in these ecosystems, they help create a supportive and collaborative environment.
Multipliers of CEE technology ecosystems: case studies on entrepreneurship
Vassil Terziev, Bulgaria
Vassil Terziev, a current candidate for mayor of Sofiasignificantly influenced the Bulgarian startup scene with the sale of Telerik for $262.5 million in 2014. Subsequently, as managing partner of Eleven Ventures between 2017 and 2023, he invested in notable companies such such as Payhawk, Bulgaria's first unicorn, and Quantive, which secured $120 million in funding in 2021.
In addition to these financial contributions, as indicated in a recent mapping by Endeavor Bulgaria, Terziev has mentored more than 50 entrepreneurs, invested in 62 companies and fostered the creation of 65 Telerik employee spin-outs. This broad participation demonstrates the depth of his commitment to the entrepreneurial landscape of his home country.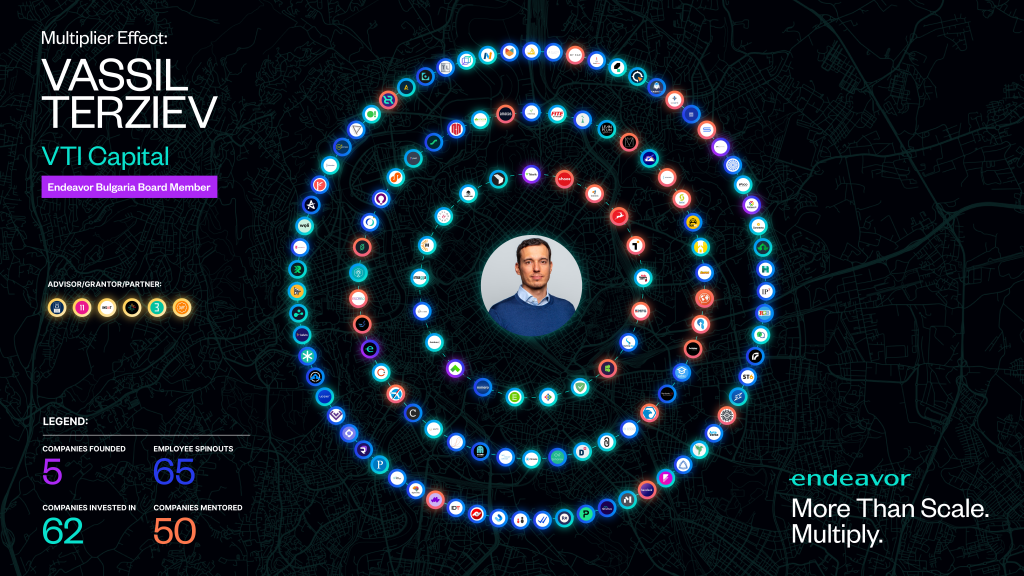 Sergiu Negut, Romania
Sergiu Negut has a strong influence on the Romanian startup scene, notably as co-founder of FintechOS, a company with a global presence in over 20 markets and over $90 million raised.
His role also extends through his management of Cleverage.vc, where he focuses on early-stage investments in healthcare startups including FindMeCure and Medicai. His venture capital activities rely on a blend of financial acumen and operational expertise, attributes that make him a strong pillar of support in the Romanian startup ecosystem. Through these companies, his widespread mentoring and his engagement with local startups, Sergiu Negut is effectively nourishing the entrepreneurial landscape in Romania.
Nevzat Aydin, Türkiye
Nevzat Aydin became known with the acquisition of Yemeksepeti for $589 million in 2015. After this acquisition, he notably distributed $27 million in bonuses to 115 employees, thus providing capital to some to start their own businesses .
In addition to his business success, Aydin has had a marked impact on the angel investing community in Turkey. He is highly rated by university students, mentioned as one of the top three role models alongside names like Steve Jobs and Mark Zuckerberg. His investments span more than 60 startups and he has mentored more than 50 companies, making him one of the most influential figures in the Turkish entrepreneurial scene.
Apostolos Apostolakis, Greece
Apostolos Apostolakis is a constant in the Greek startup ecosystem. He co-founded a series of companies and invested in startups like Jeeves and Spotahome, which attracted attention both nationally and internationally.
He also co-founded VentureFriends, a venture capital fund with €170 million spread across three funds. Through this and his various other commitments, he provides both financial support and mentorship, making him a key contributor to the Greek entrepreneurial environment.
Wiktor Schmidt, Poland
Wiktor Schmidt has carved out an important role for himself in the Polish technology and entrepreneurial landscape as co-founder and CEO of Netguru. The company has generated more than $60 million in revenue, employs more than 900 people and has completed more than 600 projects, strengthening its reputation as a major technology player in Poland. Schmidt's enthusiasm for technology is evident not only in his work with Netguru, but also in his broader commitments to innovation and growth.
In addition to leading Netguru, Schmidt is an active investor and connector in technology, connecting ideas with capital and mentorship. His role as Chairman of the Board of Directors of Endeavor Poland since May 2022 extends his impact even further. In establishing the global organization's new local office, Schmidt focused on promoting high-impact entrepreneurship in Poland.
The entrepreneurship case studies carried out in these five Central and Eastern European countries clearly show that the multiplier effect goes beyond finances alone; it also includes mentoring and creating an ecosystem. The diverse impact of their activities, from Telerik's 65 employees in Bulgaria to Yemeksepeti's role in the angel community in Turkey, shows the different ways in which the multiplier effect manifests itself.