The Chicago International Film Festival (CIFF) brought the lights, cameras and big screen action to the Southport Corridor for its opening night on October 11.
The second annual event helped celebrate the 59th anniversary of the Chicago Film Festival, kicking off 11 days of international film screenings and industry events outside the Music Box Theater. Party attendees saw short films on an outdoor screen, live music from Chicago artists, a red carpet for filmmakers, and enjoyed food and crafts from local vendors.
"It's great to be outside and see a lot of people and a lot of enthusiasm," said CIFF volunteer Hugo Nugraha. "It's a strange and interesting experience because I go to the Music Box quite often but I've never seen so much energy outside of the theater."
"We're grown up now" marked the festival's opening night screening and the film's U.S. premiere, followed by an in-person Q&A with director Minhal Baig. The film tells the story of Malik and Eric, 12-year-old boys, who spent their childhood in Chicago's infamous Cabrini-Green housing complex in the early '90s.
Festival attendees Forrest Parks and Rosalba Garibay attended the screening after hearing about the film from friends and film industry professionals in the city.
Parks and Garibay said they wanted to support more projects by filmmakers of color in the city, leading them to Baig's social media promoting "We Grown Now." Garibay said Chicago's untold stories need to be shared internationally, not just within surrounding communities.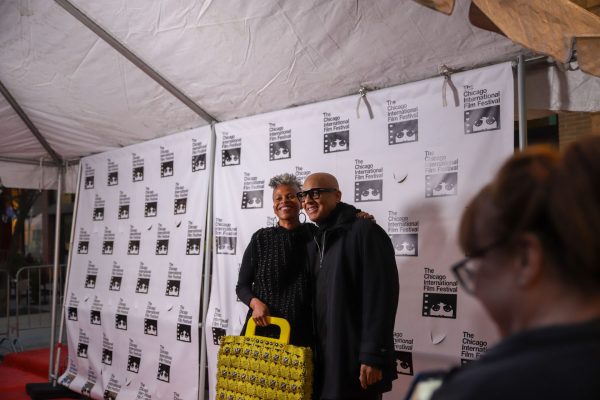 "Having stories right here from home is really important," Parks said. "I've always seen some really beautiful and impactful stories that aren't being told on the main stage or big screen. Hosting a world-class festival here in Chicago means we see and share all of these stories that need to be heard.
DePaul junior Audrey Webber attended the opening night and said there were noticeably more people and vendors than last year's event. As a film student with a concentration in cinematography, Webber said the party helped them gain insight into the film industry they hope to work in after graduation.
"It's really nice to have bigger events like this that bring attention to the city's film community, especially as it's growing at the moment," said Webber. "Since this is only the second year (of the block party), it's pretty impressive for what they're able to put on."
This is Nugraha's first time participating in a block party, but this is her third year volunteering at CIFF. In addition to working the booths, interacting with vendors and meeting moviegoers at the cinema, Nugraha said CIFF gave him a better understanding and appreciation of film festivals and international films.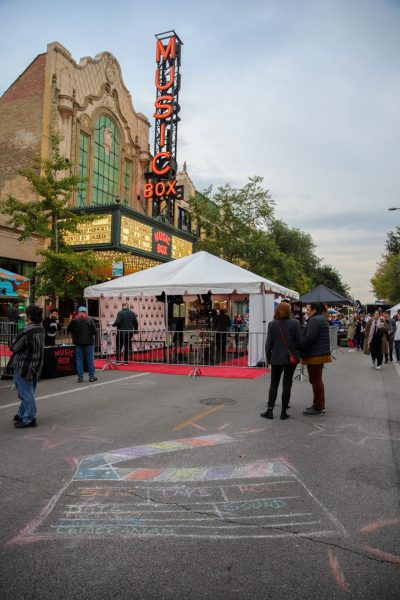 "I feel like being in the (United States), people here only watch Hollywood movies," Nugraha said. "Then I come here and meet so many people who only watch international films. It's really nice to be able to interact with these kinds of film people and see their views on different things here and abroad.
The block party didn't give everyone in the community a reason to celebrate. Lakeview resident Meredith Miklasz walked past the Music Box Theater on her way to the Southport Jewel Osco, unaware of the celebration. Miklasz said road closures and sidewalk blockages marking the boundaries of block parties have interrupted their routine trip to the grocery store.
"I'm here for the arts and film, but it's a little confusing that there's no signage to warn residents who live in the neighborhood," Miklasz said. "It's just a matter of why here and why now on a Wednesday night when I just want to cook pasta."
Miklasz said the event looked interesting, but the Lakeview neighborhood may not be the right place to showcase the international element of the festival because of its predominantly white population.
"It would be cool to bring the arts to a less white, Caucasian, affluent neighborhood," Miklasz said.
According to a Chicago Metropolitan Planning Agency According to one study, the racial makeup of the Lakeview neighborhood is nearly 76% white. The same data set determined that only 33% of Chicago's population is white.
"Maybe do it in a different place that deserves attention and where the community actually needs the money and publicity of such a cool event," Milklasz said. "Chicago is an incredibly multicultural city and we have tons of neighborhoods that reflect more of that internationalism."
CIFF volunteer Lily Wood said her second year working at the festival allows her to watch great films and network with industry professionals. Wood is a sophomore at Columbia College majoring in film and said she volunteered more than 40 hours at last year's festival. She said seeing more international films allows her to compare cinematic styles from different countries, while learning from the filmmakers who speak at the different screenings.
"The festival definitely opened my eyes to films from different countries," Wood said. "It's fascinating to see the directors, learn about their process and how it differs from country to country."
The festival runs October 11-22 at several theaters around the city, including AMC Newcity, the Gene Siskel Film Center and the Chicago History Museum. This year's film lineup includes screenings of the new Studio Ghibli film "The Boy and the Heron," "Saltburn" from director Emerald Fennell and "The Bikeriders" starring Austin Butler and Tom Hardy.
"I've lived in Chicago for six years now and it's hard to miss the film festival," Nughara said. "The block party and festival are great ways to meet people from different parts of the world and watch different types of films than I regularly watch. It's something new every time.