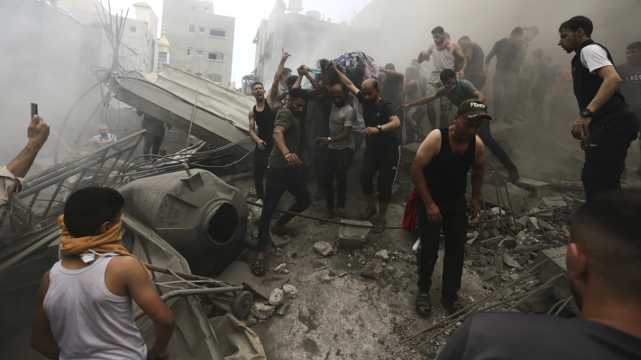 The morgue at Gaza's largest hospital overflowed Thursday as bodies arrived faster than relatives could collect them on the sixth day of war. | Picture: P.A.
The morgue at Gaza's largest hospital overflowed Thursday as bodies arrived faster than relatives could collect them, on the sixth day of Israel's intense aerial bombardment of the territory of 2.3 million people.
As dozens of Palestinians are killed every day in Israel's onslaught after an unprecedented Hamas attack, doctors in the besieged enclave said they are running out of places to put remains removed from the latest strikes or recovered under the ruins of demolished buildings.
The morgue at Shifa Hospital in Gaza City can only handle around 30 bodies at a time, and workers have had to stack corpses three high outside the cold room and put dozens of them in others, side by side, in the parking lot.
"The body bags started and kept coming and now it's a cemetery," Abu Elias Shobaki, a nurse in Shifa, said of the parking lot. "I am emotionally and physically exhausted. I just have to stop myself from thinking about how much worse this is going to get.
Nearly a week after Hamas militants breached Israel's heavily fortified separation barrier and killed more than 1,200 Israelis in a brutal rampage, Israel is preparing for a possible ground invasion of Gaza for the first time in nearly of a decade. A ground offensive would likely increase the Palestinian death toll, which has already exceeded the last four bloody wars between Israel and Hamas.
Already, the large number of human remains has pushed the system to its limits in this long-blocked territory. Gaza's hospitals are poorly supplied during quiet times, but now Israel has stopped the flow of water from its national water company and even blocked electricity, food and fuel from entering the coastal enclave.
"We are in a critical situation," said Ashraf al-Qidra, spokesman for Gaza's health ministry. "Ambulances cannot go to the injured, the injured cannot access intensive care, the dead cannot go to the morgue."
Lines of white body bags – soles of bare feet protruding from one, a bloodied arm from the other – highlighted the scale and intensity of Israel's retaliation against Gaza.
The Israeli campaign against Gaza has razed entire neighborhoods, killing more than 1,400 people – more than 60% of them women and minors, according to Gaza's health ministry. More than 340,000 people have been displaced, or 15% of Gaza's population.
The Israeli military says it is striking Hamas militants' infrastructure and aims to avoid civilian casualties – a claim the Palestinians reject.
These deaths, and more than 6,000 injuries, have overwhelmed Gaza's health care facilities as supplies dwindle.
"It is in no way possible to continue this work," said Mohammad Abu Selim, Shifa's general director. "Patients are now on the streets. The injured are in the streets. We can't find a bed for them.
After the heavy bombardment of the Shati refugee camp, just north of Gaza City along the Mediterranean coast, on Thursday, a new wave of people flocked to the hospital complex – small children with bruises and bandages, men with makeshift tourniquets, young girls with blood on their shoulders. faces. With Shifa's intensive care unit full, some injured people lay in the hospital corridors, pressing against walls to clear aisles for staff and stretchers.
Worse still, Gaza's only power plant ran out of fuel on Wednesday. Shifa and other hospitals are desperately trying to save the remaining diesel in their backup generators, turning off the lights in all but the most essential hospital departments: intensive care, operating rooms, oxygen stations.
Abu Selima, director of Shifa, said the hospital's fuel would run out within three to four days.
When that happens, "a disaster will strike within five minutes," said Naser Bolbol, head of the hospital's nursery department, citing all the oxygen equipment that keeps infants alive.
Hospital officials said there would be no electricity to refrigerate the dead either.